A 20-month-old baby dies injured by a ball of hail in Gerona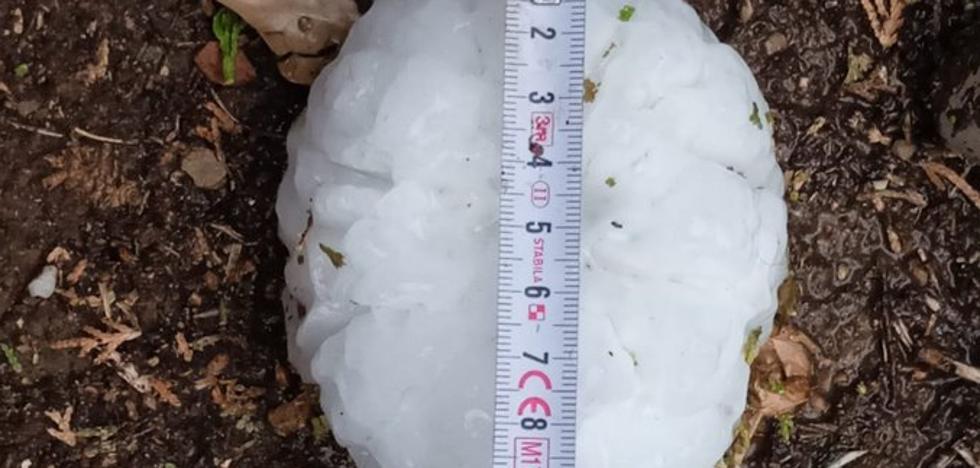 About fifty people are injured by the rain of ice stones of about 11 centimeters
The worst hailstorm ever seen in Bisbal d'Empordà (Gerona) - ice stones of about 11 centimeters (larger than tennis balls) fell - has resulted in the tragic death of a 20-month-old girl . The minor suffered a severe blow to the head on Tuesday afternoon, when the hailstorm took place and she died this past morning at the Josep Trueta hospital in Gerona. In addition, about fifty people have been injured by bruises or fractures. A woman has spent the night admitted, although this morning she has been discharged.
The accidental mayor of the Empordà town, Carme Vall, lamented this Wednesday the death of the little girl. She has reported that nothing like it had ever been seen and that no one in the town remembers a hailstorm of this violence. It barely lasted 10 minutes, but the virulence was very great. Not only for her personal injuries, but for the damage caused to roofs and cars. The City Council will request the declaration of a catastrophic area.
Some testimonies have reported on TV3 the violence of the hailstorm. Like Josep Vilà, a young man from the town, whose collarbone was broken by a stone, or Jùlia Puig whose finger was fractured. Outpatient emergencies in the area have collapsed in a few minutes. Rachid Redou has graphically described what he has experienced: "Pam, pam, the end of the world." The City Council asks citizens not to pass under the cornices of buildings due to the risk of falling. The damage to the trees in the municipality and to dozens of birds has also been considerable.
"We have experienced a grotesque situation," the accidental mayor reported in Rac-1. The members of the municipal team were in the town hall, when they began to hear a very intense noise. They opened the window and saw rocks larger than tennis balls falling. Only stones fell and it hardly rained. "Only 10 minutes, but it was 10 minutes of fear," she explained.