A 16-year-old footballer dies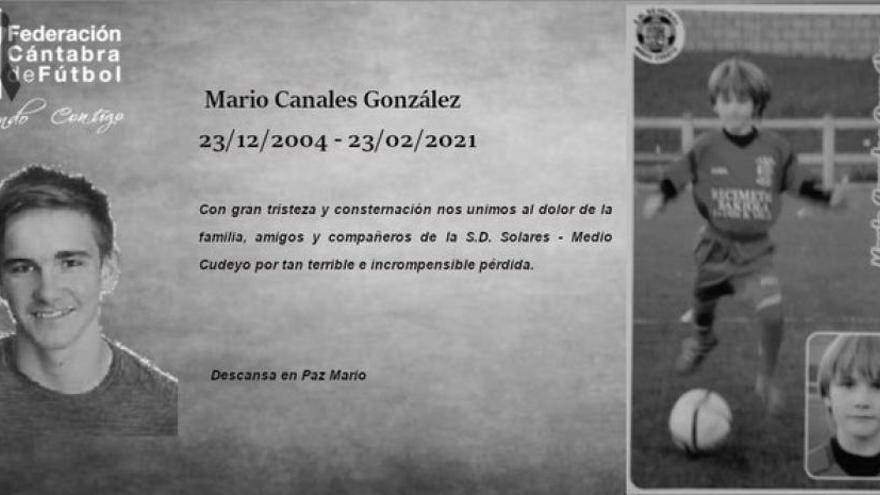 Mourning in football for the death of the young player Mario Canales At 16, he has not been able to overcome the health problems he suffered from. In recent weeks, the SD Solares Dias footballer had received messages of support from many clubs and sports personalities such as the players Andres Iniesta, Oscar de Marcos, Sergio Canales or the ex-footballer Pedro Munitis.
Also the oldest, the team that plays in Third division, they turned to the demonstrations of support for the young man to overcome his health problems.
"The Sociedad Deportiva Solares - Medio Cudeyo is mourning the death of our youth player Mario Canales González, we join the pain of his family, teammates, coaches and friends. From the club we want to transmit on behalf of the Canales González family a message of gratitude for the expressions of affection that we have received during this time throughout the world of football. Mario has left us, although you are giving yourself life, a sample of your simplicity, humility and greatness. Always with us! ", Communicated the Cantabrian club.
The Cantabrian Federation, for its part, also wanted to show solidarity and "join the pain of the family, friends and colleagues of the SD Solares for such a terrible and incomprehensible loss". The Santander coach Quique Setien He also sent "all the encouragement to family, friends and colleagues" for "a hard and unexpected blow."