94% of boat arrivals in August are concentrated in four days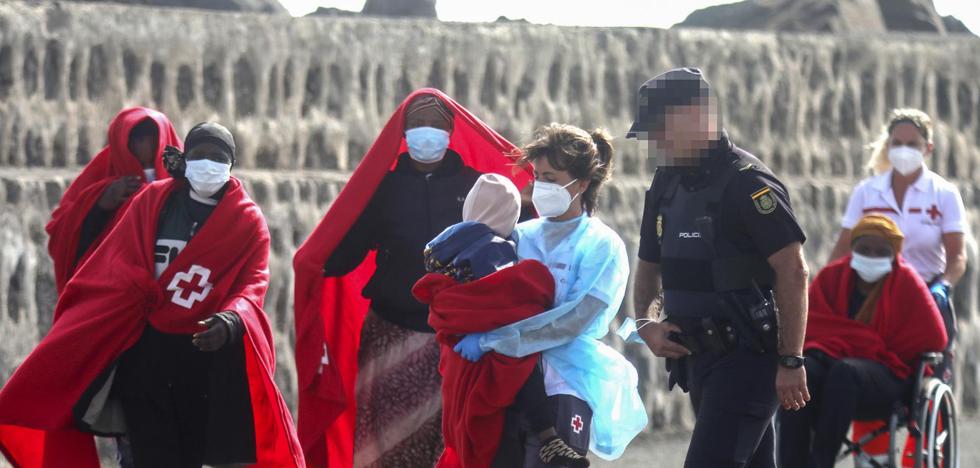 Sánchez sees a downward trend compared to the rebound, which will presumably exceed the July figure
In the first fortnight of August, 758 people have arrived aboard boats on the Canary coast, according to the latest balance from the Ministry of the Interior. Of these, 715 were rescued in fifteen boats between last Thursday and Monday. Four frenetic days, especially in Lanzarote and Fuerteventura, where newcomers were assisted.
Predictably, at the end of the month it will exceed
the total figure for July, where around 800 people arrived. Even without the arrival of any other boat, August already registers double the 375 people affiliated in March or the 473 in June and is above the 753 in April.
In total, there are already more than 10,300 people who have managed to reach the coast of the archipelago aboard 229 small boats so far this year,
almost 26% more compared to the same period last year. The
Canary Route It brings together more than half of the irregular entries into Spanish territory, 60% of the 18,147 people recorded by the Interior.
The count does not reflect, however, the most tragic fact:
five people lost their lives that week in his attempt to reach the islands. To these is added the death of
a child under six this Tuesday after being treated at the Maternal-Children's Hospital for a cardiorespiratory arrest. Another seven-year-old girl who disappeared at sea was traveling in the same boat as him.
During the first half of this year, at least
311 people died or disappeared in the Atlantic trying to reach the Canary Islands by boat, which yields an average of almost two a day, according to data from the International Organization for Migration (IOM).
The rally divides opinions

Despite these data, the Prime Minister
Pedro Sanchez, who is on vacation in Lanzarote, has assured that there is a downward trend in the number of arrivals compared to last year. In an appearance before the media on the island of La Palma, he also highlighted the work with transit countries and the increase in cooperation items, in particular with Morocco. In fact, Brussels will allocate 500 million euros to the Alawite country to control its borders, 50% more than the previous financing framework.
On the opposite side, the vice president of the regional government and leader of Nueva Canarias also spoke on Tuesday,
Roman Rodriguezwhich considers it "reckless" to link the change in position on the Sahara with the containment of the migratory flow.
He distrusts the Moroccan partner for his traditional "blackmail" to Spain with the opening and closing of its borders and regrets that the State and the European Union "do not have a defined migration policy."