8,000 people mobilize against the withdrawal of equality grants from the Junta de Andalucía | Society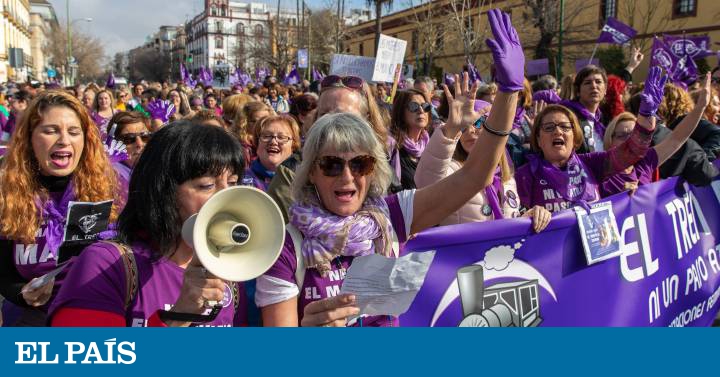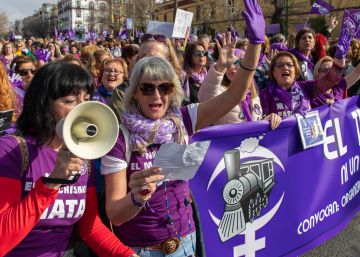 Some 8,000 people, according to sources from the organization, have seconded this Sunday in Seville the mobilization of Dignity trainsummoned against the withdrawal of the aid granted by the Andalusian Government to 241 gender equality projects, social exclusion and eradication of sexist violence.
Different associations of women of Andalusia have participated in the march that has traveled the center of the Andalusian capital, which has also been attended by leaders of several political, trade union and social organizations. One of them has been the president of the Andalusian PSOE, Micaela Navarro, who has encouraged the participants to keep their protest. "If the dictatorship didn't shut us up, now they won't shut us up," he said.
Navarro has defended the maintenance of the aid eliminated since, he explained, "when a subsidy is justified and admitted, it must be adjusted to the end for which it has been given, and that is what has been done", in reference to the criticisms that have questioned the use of these grants. "Any moderately responsible government would be ashamed to see that these resources are being taken away," he added.
The federal secretary of the PSOE and vice president of the Government, Carmen Calvo, He has sent a letter to the organization, in which he encourages to continue fighting "for real and effective equality", which he has defined as "the horizon towards which we walk together, united and firm, but there is a significant threat of reversal of the feminist achievements that have taken so much effort to achieve. "
The director of Andalusian Women's Institute (IAM), Laura Fernández, admitted after the demonstration: "We did not like the resolution adopted, but we have the obligation to comply with the law or else we would be committing a crime."
"With the purpose that this situation does not happen again, we are already working on new regulatory bases that are more transparent, clear, objective and that faithfully respond to the needs of the feminist associative fabric of Andalusia," Fernández said in a note press. In that text, he explained that the IAM provisional resolution had planned to subsidize 315 projects of the three incentive lines, related to participation, exclusion and gender violence, of 225 women's associations and groups. But "after the objection expressed by the General Intervention of the Junta de Andalucía, 81 projects from 68 entities have been subsidized", so that the projects affected are 234 and the associations without subsidy are 157. "The resolutions are published on the website of the IAM so anyone can check it, "he said.