80% of Spaniards use social networks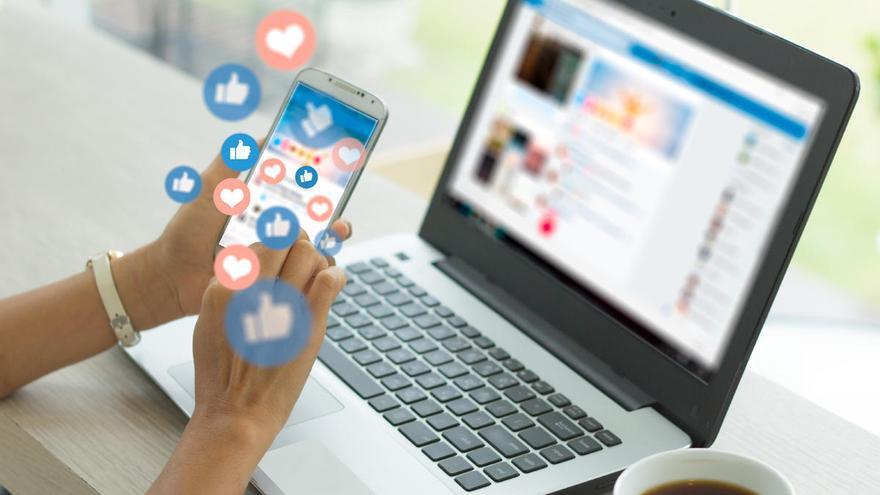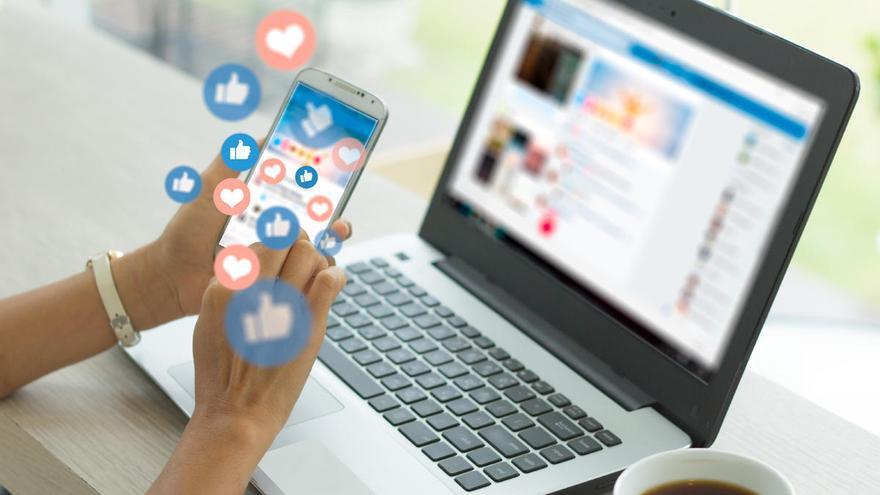 A total of 37.4 million Spaniards are active users of the social networks in January 2021, reaching 80% of the population, well above the 53.6% penetration of the world average, according to data from the Hootsuite Digital 2021 report.
The number of Spanish users on social networks is growing, and has increased by 27.6% in the last year, compared to the data from the same 2020 report. This represents 8.1 million more active users of social networks in a year, and each Internet user has an average of 8, 1 accounts.
The data from Spain in social networks they are in line with those of the rest of the world, where in January 2021 there were 4.2 billion users of these platforms, 53.6% of the total inhabitants of the planet.
Likewise, in the rest of the world, active users of social networks have also increased, although to a lesser extent, 13.2% compared to January 2020, with 490 million more people.
Facebook leads the world
Among social networks, Facebook remains the one with the most users worldwide, with 2,740 million, ahead of YouTube, owned by Google, with 2,291 million.
The three most used social networks after Facebook and YouTube They also belong to Mark Zuckerberg's company: WhatsApp, with 2 billion users; Facebook Messenger, with 1.3 billion; and Instagram, with 1,221 million.
Overcome the barrier of 1 billion users Chinese messaging app Weixin / WeChat, followed by other platforms born in China such as TikTok, seventh with 689 million active users, and Weibo, tenth with 511 million.
Behind are other popular social networks such as the messaging app Telegram (500 million), Snapchat (498 million), Pinterest (442 million), Reddit (430 million) and Twitter (353 million).
However, Spanish users prefer WhatsApp, used by 89.5% of Internet users, slightly ahead of YouTube, with 89.3%.
Closes the podium of the most used social networks in Spain Facebook, with 79.2%, followed by Instagram, with 69%, and Twitter, with 52.6%.
91% of Internet users
Hootsuite's Digital 2021 report has also looked at other aspects such as internet and mobile penetration. In Spain, 42.5 million people are Internet users in 2021, according to Eurostat data, representing 91% of the total population.
The total of Internet users has grown just 0.3% compared to 2020 data, with 144,000 more people connected in January 2021.
This increase is more pronounced in the world average, where Internet users have grown by 7.3% in the last twelve months, with 4,660 million people connected, which represents almost 60% of the world population.
Further, 93.6% of Spanish Internet users access from mobile devices, which represents a total of 39.8 million people. Spaniards spend an average of 2 hours and 48 minutes surfing the Internet from their mobile.
The average download speed of Spaniards when browsing from mobile networks is 48.86 Mb per second, 39.4% more than in 2020, while in fixed networks the download speed rises to 160 Mb per second on average (37.7% more than a year ago).
Spanish Internet users of between 18 and 64 years The vast majority have a mobile phone, in 98.1% of the cases. 97.8% of people use smartphones, while 6.2% choose phones without an Internet connection.
The second device is the computer (laptop or desktop), owned by 82.9% of Spanish adults, followed by tablets, third with 58.8% of users.
The consoles also stand out in terms of penetration among Spanish adults, in 46.2% of the population, followed by other devices such as 'smartwatches' or activity wristbands (34.5%), smart or connected televisions (29.2%), home automation devices (12.8%) and virtual reality (5.3%).
Internet traffic in Spain counts as protagonists mobile phones, which account for 50.8% of total website visitors (they grew by 3.1% in the last year). With this they surpass computers, with 45.9%, and to tablets, with 3.1%. The weight of computers and tablets in web traffic in Spain has decreased in the last year, by 2.9 and 6%, respectively.
Hootsuite has also analyzed the most used browsers in Spain in its report, in which Google Chrome stands out, with 71.9%, ahead of Safari, second with 14.3%, and Firefox, third with 4.6 percent (18% less than a year ago).
The browser that has grown the most in use in the last year has been Microsoft Edge, which is only used by 3.2% of all Spanish Internet users but which is 52% more than a year ago. The one that falls the most is precisely Internet Explorer, used by just 0.8% of Spaniards and whose use has been reduced by 42% compared to 2020.
6 hours and 11 minutes connected per day
In 2021, Spaniards spend an average of 6 hours and 11 minutes connected to the Internet per day, a time in which social networks stand out especially, to which Spaniards dedicate one hour and 54 minutes a day.
The daily time of the Spanish is divided between other activities such as watching television (3 hours and 22 minutes), read the news on the Internet or in physical format (one hour and 19 minutes) or listen to streaming music (one hour and 10 minutes).
Digital forms of entertainment also creep into daily life, such as listening to podcasts, with an average of 31 minutes a day, and playing video games on the console, with an average of 55 minutes a day.
Mobile phones grow above the population
Likewise, in Spain the number of mobile phones exceeds the population, as analyzed by the Hootsuite Digital 2021 report, which reports 54.34 million connected mobiles, representing 116.2% of the population.
Worldwide there are 5.2 billion mobile phones connected to the Internet, equivalent to two thirds of the planet's population, and with a growth of 1.8% in the last year, representing 93 million more mobile users.