7 members of 'Dominican Don't Play' arrested for crimes of sexual assault and injuries: they operated in Madrid and Guadalajara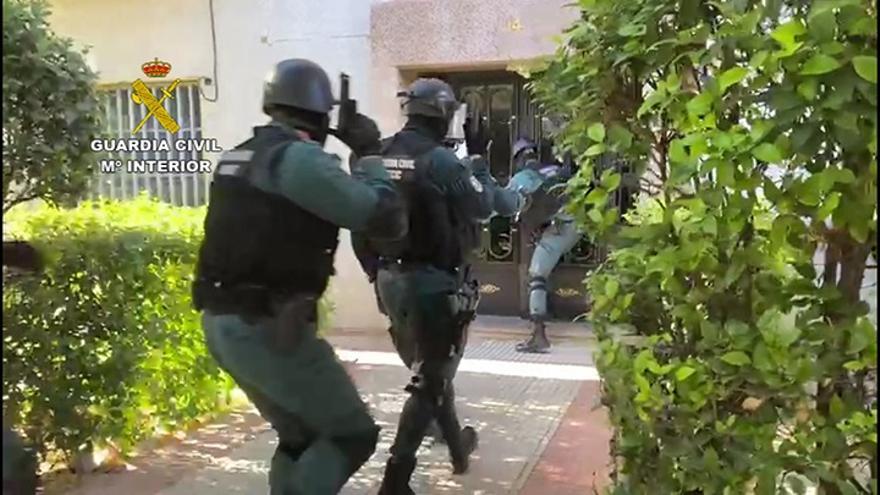 The Civil Guard, within the framework of the 'Bávaro' operation, has detained the seven members of the Choir of the Dominican Don't Play (DDP) criminal group operating in the Corredor del Henares - metropolitan area between Madrid and Guadalajara - for alleged crimes of sexual assault, belonging to a criminal group, against property, injuries and threats, and possession of weapons prohibited. Those now detained were the responsible for DDP in the Corredor del Henares and, consequently, were in charge of carrying out the expansion of this band in said territory and the criminal activities that its members habitually commit in the areas where they settle, has reported the Civil Guard in a press release.
The operation began when the investigators obtained sufficient evidence that pointed to a group of young members of the youth gang of Latino origin Dominican Don't Play as possible responsible for the numerous attacks and threats that were taking place in the area where this group operated.
After the investigations carried out, the agents registered several properties in the town of Torrejón de Ardoz (Madrid), including the two venues used by this band, in which numerous prohibited weapons, items that could have been stolen, and the weapons and tools they would use to commit those crimes against the heritage, apart from a large number of distinctive elements of the band. This group, which was based in Torrejón de Ardoz, operated along the entire Henares Corridor, being accredited its relationship with common crime, mainly in the commission of alleged crimes against people and property. So much so that, on numerous occasions, these individuals would have caused andViolent clashes against members of rival gangs settled in different surrounding towns in order to avenge previous disputes and gain control of the areas.
'Chorus' to control zones
This band, like others like it, they aspire to control certain geographic spaces, establishing itself in various regions of the country through formation of territorial groups, to those who called 'Choirs', who are dedicated to commit crimes like those mentioned above, creating a huge social destabilization in the areas where they settle.
Usually these types of violent youth gangs are organized groups with a strong hierarchy and where each of its members has a defined function, as explained by the Benemérita.
In most of these organizations, a large number of components are minors, who are usually ilduced to abandon their family homes and engage in illegal activities as a means of financing the band. That is why the Civil Guard supports an important effort to prevent and clarify the activities of this type of gangs. The investigation has been developed jointly by the Special Central Unit (UCE) number 3 and the Information Groups of the Guadalajara and Madrid Civil Guard Command, which have also had the collaboration of the Torrejón de Ardoz Local Police.