5,822 students will take the EBAU at the ULPGC in June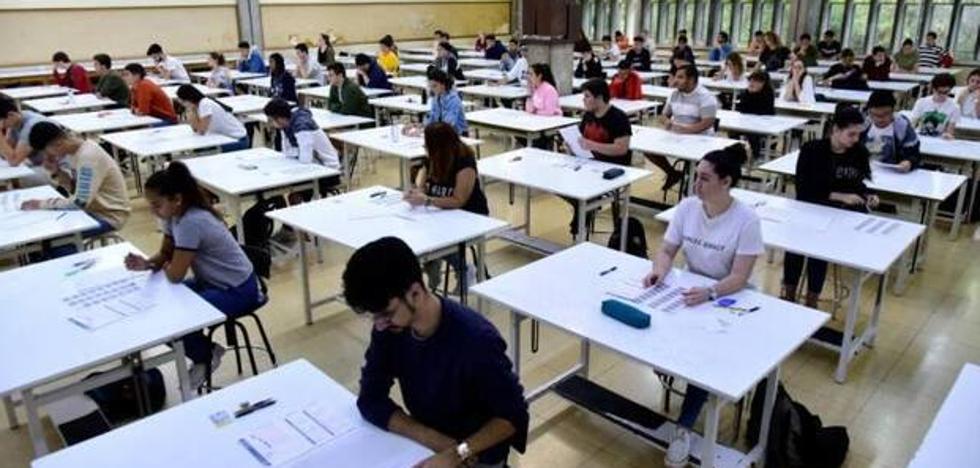 ebau
Students must present themselves at 8:45 a.m. at the site designated for the exams.
The University of Las Palmas de Gran Canaria (ULPGC) will host a total of
8,522 students who will carry out the entrance exams to the University,
EBAU, from June 8 to 11. Of these, 59.82% are women and 40.18% men.
In addition, 5,160 have enrolled in the general phase and 662 will only take the option phase to improve their grade.
By courts, those enrolled in the EBAU are:
By Court
Fuerteventura: 497 (8.54%)

Lanzarote: 743 (12.76%)

Las Palmas-Campus: 2,528 (43.42%)

North-Guide: 482 (8.28%)

South-Expomeloneras: 834 (14.32%)

Telephone: 738 (12.68%)

Grand total: 5,822 (100%)
By branches, 263 (4.52%) correspond to
Arts and Humanities; 2,530 (43.46%) to
Sciences; 1,680 (28.86%) to
social Sciences; and 688 (11.82%) to
Humanitiesas well as 661 that come from
Vocational training (11.35%).
At the same time, 117 students with special needs are presented to the EBAU, of which seven will be examined in Fuerteventura; 12 in Lanzarote; 64 at the Tafira Campus; seven in Guide; 11 in Expomeloneras; and 16 in Telde.
For the care of these students, there is a Social Assistance Service run by the social worker Dolores Cabello and the ULPGC professor Israel Castro, who has designed the mentoring program with which they have been trained.
28 student support mentors.
It should be noted that last year, 92.71% of the students who took the EBAU at the ULPGC passed the Baccalaureate Evaluation test for University Access. In the general phase there were 5,320 submitted, of which 4,932 passed the test. The total enrollment was 6,019 students, of which 699 applied only to the option phase.
Archive image of the first session of the EBAU last year at the ULPGC. /

Juan Carlos Alonso

test venues

Students must report to
8:45 a.m. at the venue designated for the exams, which are:
—
Tafira Campusin various buildings, students from Las Palmas de Gran Canaria, Teror, Valleseco, Santa Brígida, San Mateo, Tejeda and Artenara.
—
Guide: IES Santa Mª de Guía, students from Arucas, Moya, Firgas, Santa Mª de Guía, Gáldar, Agaete and the Village of San Nicolás.
—
South: in Expomeloneras, students from Ingenio, Agüimes, Santa Lucía, Mogán and San Bartolomé de Tirajana.
—
Telephone: IES Juan Pulido Castro (Arnao), students from Valsequillo and Telde, including Jinámar.
—
Lanzarote: IES Blas Cabrera and IES César Manrique
—
Fuerteventura: IES Saint Thomas Aquinas.
Publication of qualifications

Posting of grades
will be the June 17 and publication of final grades after review on
June 23.
pre-registration

From June 20 to July 4 the pre-registration period will open, in which students can choose in order of priority
up to 12 undergraduate degrees. The ULPGC offers more than 5,000 new access places in undergraduate studies, of which six are double degrees, five are distance learning, two in Lanzarote, one in Fuerteventura and 35 degrees in Gran Canaria.
The position allocation system is configured to assign the most preferential position of those chosen and that, when a position is assigned, all the grades chosen in a lower position are eliminated. So,
You have to be very aware of the pre-registration calendar and the registration deadlines since, if you do not formalize the registration within the established deadlines, you are self-excluded from the process.
The qualifications will be published on June 17, while the final ones, after review, on June 23

The limits of places, court notes of the previous course and information on scholarships, residences or public prices, are published on the website of the Academic Management Service:
https://www.ulpgc.es/acceso/preulp and on the ULPGC student website for you:
https://www.ulpgcparati.es/.
Specific access tests

Students wishing to enter the degree in
Physical Activity and Sports Sciences They have to take specific entrance tests. It is the only center that has these specific tests that are essential for access to these studies, in addition to carrying out the common official pre-registration procedures for all ULPGC degrees.
The specific tests for access to the Faculty of Physical Activity and Sports Sciences of the ULPGC will be carried out
from June 28 to 30. Registration for the tests will be done on the faculty website:
https://fcafd.ulpgc.es/.
Student Information

The ULPGC Student Information Service is available to resolve any queries that may arise in the process and for this it has telephone numbers, whatsapp and email on its website:
sie.ulpgc.es.
There, in addition, access guides, degree brochures, a visit to university campuses in 3D and a career guidance application for secondary, baccalaureate or higher cycle students are available.
The EBAU is organized by the Director of Access, Nicanor Guerra, dependent on the Office of the Vice-Rector for Students, Alumni and Employability, coordinated by Vice-Rector David Sánchez.