500 tickets for the yellow tide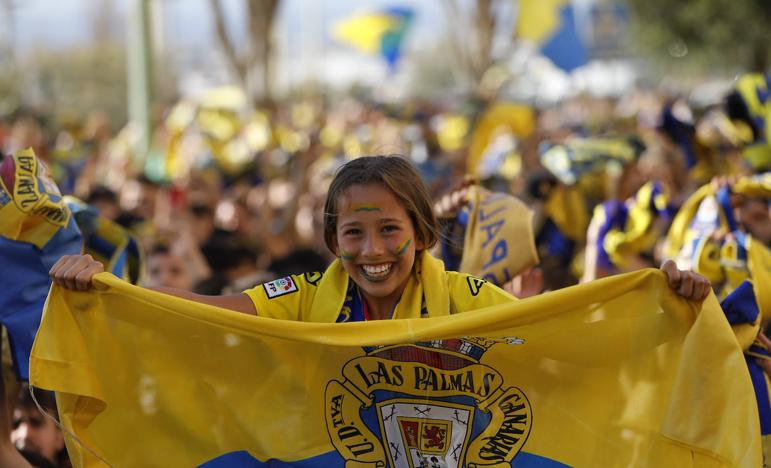 soccer
UD Las Palmas puts on sale this Tuesday, from 10:00 am, (priority for season ticket holders) the seats provided by Sporting de Gijón for Sunday's match (7:00 pm). Box offices 7 and 8 of the Gran Canaria Stadium will be opened. The price will be €15
Sporting de Gijón has provided UDLas Palmas with a total of 500 tickets for the yellow fans who intends to attend this Sunday, at 7:00 p.m., the last League match at the El Molinón Enrique Castro Quini stadium. García Pimienta's team needs to add a point to mathematically qualify for the playoffs for promotion to the highest category.
The club reports on its official channels that these seats will be put up for sale, starting this Tuesday.
Subscribers will have priority in the purchase, and for this, ticket offices 7 and 8 of the Gran Canaria Stadium will be set up, from 10 a.m. to 6 p.m., uninterruptedly. On Wednesday, if tickets are available, requests from the general public will be attended to at the same time.
Tickets have a single price of €15 and each fan (subscribers included) will be able to purchase a maximum of two tickets, being essential the presentation of the documentation of all those people who are going to make use of them.
The UD reminds that the tickets are nominative and non-transferableso refunds are not allowed, and Real Sporting de Gijón, the visiting club, may review them at the access controls of the access doors set up at the El Molinón stadium for visiting fans.
The importance of the match and the great expectation and enthusiasm that the team has been generating with its extraordinary career in the League heralds a new yellow tide as has already happened in previous trips to Real Valladolid and Alcorcón.
In the event of the team qualifying in Gijón, it is the club's intention to inform on the same Sunday of the prices established for the first roundwhich will depend on whether the first match is away or at the Gran Canaria Stadium.
The League has already announced that the first round matches will be played on Wednesday June 1 (5th against 4th), and the second on Thursday 2nd (6th against 3rd). For Saturday and Sunday is the return.
On the other hand, the yellow expedition plans
move to Asturian lands on Saturday -via Tenerife-. The team will return to Gran Canaria on Sunday night, on a charter flight, with the intention of gaining time for the players to rest and recover.
On the sporting front, the squad has enjoyed two days off after the 2-1 draw against Real Oviedo, and it will be this Wednesday, when they return to training at the Ciudad Deportiva de Barranco Seco.
For Sunday's game, the player Jesé is a serious doubt, due to the injury he suffers in a collarbone.