40% of the personnel of the Canary Islands Health Service have already been vaccinated against Covid-19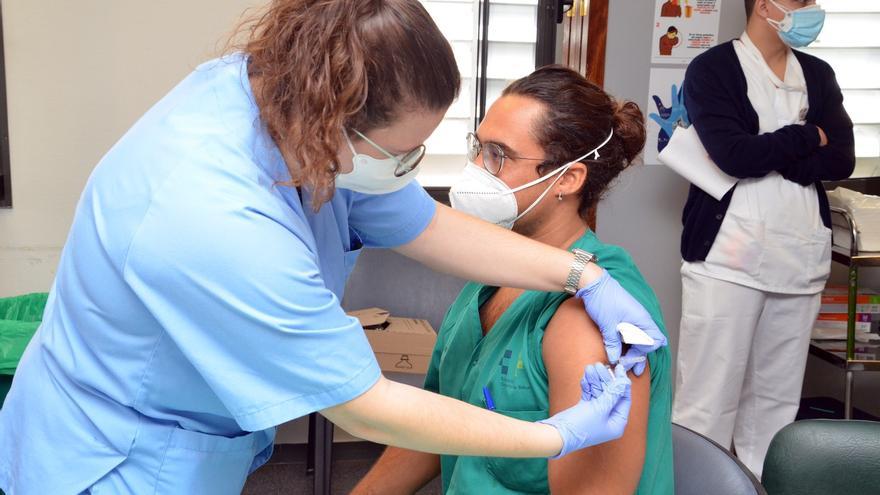 The Ministry of Health of the Government of the Canary Islands has already administered 12,919 vaccines against Covid-19 among the staff of the Canary Islands Health Service (SCS), what the 40.35 percent of the total of 32,000 that make up the target population of the second group of the vaccination campaign started at the end of December.
This has been notified by the regional department this Thursday in a statement in which it has highlighted that they are already 27,637 people who have been inoculated with the first of the two doses necessary to end the coronavirus, which represents 62.75% of all vaccines received to date (44,040).
At first group, in which users and workers of the Archipelago social health centers are, vaccination coverage now reaches 86.14% of the total, that is, 14,718 of the 17,086 people have received the first dose, in a phase that Health intends to culminate this Thursday.
6,364 vaccines in one day
Health has highlighted that Only during this Wednesday, January 13, 6,364 vaccines were administered in the Canary Islands against the virus, among people included in groups I and II.
In the latter, vaccination began with those health workers who were in the first line of care for Covid-19, but it has already been extended to all public health service personnel.
On the other hand, this Thursday the training of the Nursing staff of the concerted and private health centers with the aim that next week all health personnel dependent on these centers can be vaccinated, the regional department explained.
The vaccination of private and concerted hospitals will be administered by their Nursing staff with the supervision and registration of the vaccination by the SCS. In this way, these centers will be in charge of vaccinating health professionals who exercise only private activity, which includes those of the different professional associations related to health, with the aim that this sector can start their vaccination earlier end of the month.
The training of the Nursing personnel of the subsidized and private centers will make it possible to have these troops available, if necessary, for the vaccination of the population, as has been offered by said group.
In addition, a vaccination point will be established in the official colleges of doctors and nurses in Gran Canaria and Tenerife for the vaccination of members who carry out private activities.