40 earthquakes on La Palma in six hours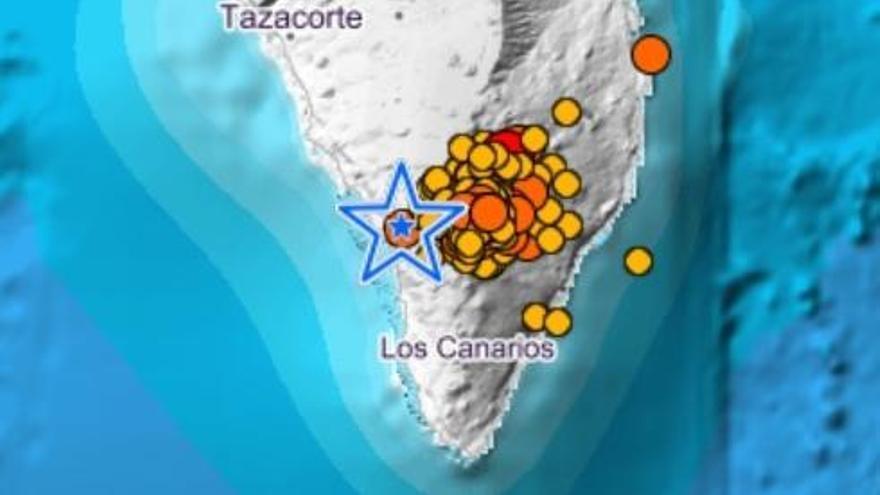 The National Geographic Institute (IGN) has registered from 00.00 hours this Saturday and until 06.30 about 37 earthquakes south of Cumbre Vieja, on La Palma, several of them of magnitude 3.9 in Fuencaliente and Mallet.
In the case of the first municipality, three earthquakes of magnitude 3.9 and intensity IV took place at 00.54, 05.58 and 06.07 hours at a depth of between eleven and thirteen kilometers.
Meanwhile, as far as Mazo is concerned, the largest earthquake was at 02.19 hours, also 3.9, but at a depth of 35 kilometers, locating another of 3.8 at 04.00 hours at 37 kilometers.
In general, seismicity remains stable at medium and stable depths, but it is not ruled out that in the coming days the earthquakes will gain in intensity and may reach six.
6,600 people evacuated due to the La Palma volcano eruption
After the preventive evacuations Last Wednesday, the total number of people evicted since the start of the emergency stood at around 6,600.
Regarding the area affected by the eruptive process, it is 845.72 hectares, 20.49 hectares more than the data made public yesterday, and the maximum width between the extreme points of the flows remains at approximately 2,900 meters, although within of this extension there are areas that have not been affected by lava.
The buildings destroyed or damaged, according to the data provided by the Cadastre, amount to 1,280 buildings, of which 1,030 are for residential use, 132 for agriculture, 64 for industrial use, 30 for leisure and hospitality, 11 for public use and 14 for other uses.
Finally, the affected crop area currently reaches 258.23 hectares, of which more than 56%, 144, 93 hectares, correspond to banana plantations.