4% of those infected in the Islands remain in hospitals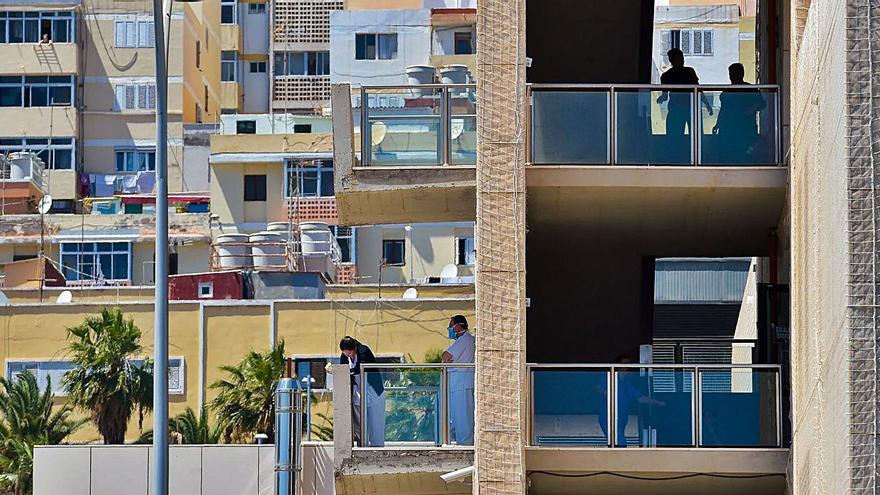 4% of the patients suffering from Covid-19 in the Archipelago fight against the pathogen in a hospital in the autonomous community. In total there are 283 people who are admitted to the Islands, of which 226 remain in the plant and 57 in intensive care units (ucis). Most of them are concentrated in Gran Canaria, which has 127 patients in Covid plants and 27 in the critical area. Likewise, the region already has 6,950 active cases of the condition –71 more than on Sunday–.
According to the latest data released yesterday by the Regional Executive's Health Council, the Canary Islands added 140 detections in the course of 24 hours. In addition, during the day to celebrate Hispanic Heritage Day, the Islands had to mourn another death in Tenerife. The victim, a 96-year-old woman, was afflicted with previous illnesses. This latest death brings to 248 the number of people who have died in the Archipelago as a result of complications related to the SARS-CoV-2 infection, since the beginning of this global pandemic.
Taking into account the data disaggregated by islands, Gran Canaria already accumulates 8,080 cases – 43 new ones – and 3,881 active cases; Tenerife, on the other hand, has found 4,919 infections since the beginning of the health crisis, of which 88 are new –62.8% of the total cases declared yesterday– and 2,876 are active; Lanzarote accumulates 1,153 infections –with nine new cases– and 98 patients; while Fuerteventura maintains its accumulated cases at 710, without detecting new infections and with 67 assets.
La Gomera also maintains unchanged the count of accumulated cases –78– and its active cases are estimated at 23. For its part, La Palma preserves the same number of accumulated detections –185– and has two active cases. Finally, El Hierro counts 49 patients, without finding new cases, and two ongoing infections.
So far, 412,512 Polymerase Chain Reaction -PCR- tests have been carried out in the region, of which 4.62% have revealed a positive result in Covid-19. Only in the course of the Sunday session, 3,039 tests of these characteristics were carried out. It should be noted that the highest daily figure was reached last Saturday, when health professionals performed 7,344 tests.
As regards the number of discharges, there are already 7,977 people who have managed to free themselves from the disease in the Canary Islands. Taking into account the information handled by the health administration, 68 were carried out on the last day.
The regional government department wanted to remind the population of the importance of respecting security measures, especially in family gatherings and holidays. And it is precisely in these environments where most of the outbreaks are taking place. For this reason, the Ministry insists on the need to maintain interpersonal distance, carry out proper hand hygiene and use masks.