30% of university students can not find work four years after graduating | Society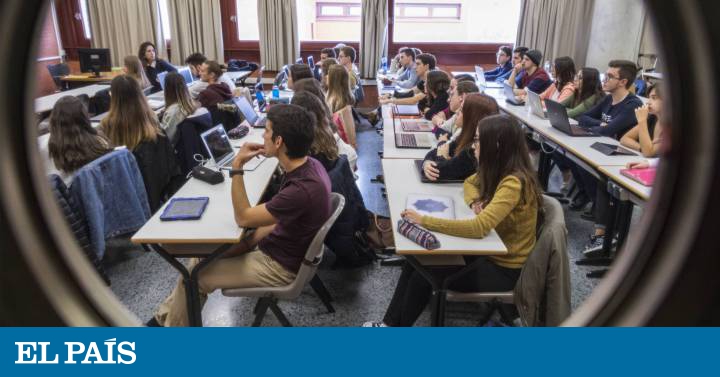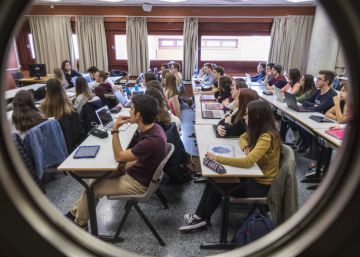 Having a university degree in Spain is not, far from it, a guarantee of a resolute life. In 2018, 27.7% of the graduates (out of a total of 233,626) who finished their studies in 2014 did not have a job. This is clear from the report Labor insertion of university graduates presented today by the Ministry of Science, Innovation and Universities. To this is added another equally alarming: Spain is one of the countries of the European Union where graduates perform mostly low-skilled jobs, 37.1% compared to 23.2% of European average, according to data from the report of the CYD Foundation of 2017.
"The educational quality standards are high and the academic programs are very similar, which shows that there is no problem:The training that Spanish students get out of the university is very similar to that of the rest of Europe, "says Francisco Michavila, Spanish education advisor to the OECD. In his opinion, the big difference is in the labor market, "very distorted" in the Spanish case. "A European report from 15 years ago (the Reflex project, The Flexible Professional in Knowledge Society) I already pointed out, large companies behave in a similar way, but there are many small and medium companies that do not have the capacity to investigate or innovate and that translates into jobs less adjusted to university education. The best ones stay in the powerful companies, the rest do everything, "says Michavila, until 2017 director of the Unesco Chair of University Management.
The report of the ministry, in which the labor insertion data have been analyzed of the university graduates of the 2013-2014 academic year during the four years after the completion of their studies, shows that 72.3% of them were registered in the Social Security in 2018 and that, of those, only 9% in autonomous regime. The membership rate increases as the years pass after finishing the studies. From 47% of the first year, it goes to 72.3% of the room. Among the graduates, 72% of those who got a contract were men and the 71.9% women.
The report does not analyze the personal situation of 27.7% who did not find a job, but points out that "it is becoming more frequent" that at the end of the degrees, master's studies begin and that "could explain that the first years the number of work discharges is less. "Nor is counted how many work abroad.
María, who prefers not to give her real name, is 28 years old and lives in Madrid. Five years ago he finished his studies in Advertising and Public Relations and is now unemployed, but by his own decision. "I chained precarious jobs, of false self-employed, and when I finally got my first contract I realized that I did not want to live angry, with impossible hours and without almost being able to make decisions, my creativity was stagnant". Therefore, he decided to leave his job and prepare oppositions. "I'm young and I have the luck and the economic resources to be able to decide a better future, not all of us who do not work is because we do not find, some of us prefer to continue studying," he says.
More work for Engineering and Architecture
By branches of specialization, Social Security enrollment rates in 2018 were 77.7% in Engineering and Architecture degrees, 76.8% in Health Sciences, and 71.5% in Social and Legal Sciences. , 68.6% in Science and 57% in Arts and Humanities. Regarding the type of contracts, in 2018 51.3% were indefinite and 48.3% temporary. The highest temporality was in Health Sciences (67%) and the lowest in Engineering and Architecture, with 67.2% of permanent contracts.
"There are a series of topics that have to be banished, such as that the student has to be great in Mathematics and Physics to do an Engineering (where there are more contracts). You have to do the campaign in high school"says Michavila.
In a decade (2008-2018) the technical careers have lost 74,000 students in Spain. "Companies do not stop to demand qualified graduates and the perfect storm occurs: vocations are lowered when they are most needed ", says Francisco Mora, rector of the Polytechnic University of Valencia. To alleviate that situation, Its university has a summer school in which architecture, robotics or physics workshops are taught to 1,800 children from three to 14 years old with the intention of awakening technological and scientific vocations.
"In the case of girls, we believe that there is room for improvement in the percentages of graduates in engineering", says Nekane Balluerka, rector of the University of the Basque Country. This year they celebrate a campus for 14-year-olds in Álava and Gipuzkoa to awaken vocations, convinced that at 16 they already have a decision made about what they want to study and it is too late.

Less and worse contracts for them
This is the second edition of the report (the first is from 2015), with cross-referenced data from universities and the working life of the Social Security affiliates of the Ministry of Labor, for the first time the data have been disaggregated by sex. In the 2017-2018 academic year, of the 1.2 million Spanish university students, 55.1% were women. That same year, more than 290,000 students graduated, of which 57.9% were women. In addition to being a majority, they also obtained better grades in all branches of knowledge (Social Sciences, Engineering, Arts and Humanities and Health Sciences), except in Sciences. However, the data indicate that four years after graduating, they obtained fewer permanent contracts than they (46% vs. 58.9%) and a lower average salary: 24,445 euros per year compared to 27,000 of them.
"The most employable careers, the STEM (Science, Technology, Engineering and Mathematics), are the ones that women choose the least, where a gap begins which will later turn into salary, they are in the areas where there is more work and better paid, that is why it is so important that the stereotype is changed from primary and secondary, there can not be feminized and masculinised areas ", says Eva Alcón, rector of the Jaume I University of Castellón and first delegate of equality of the conference of rectors (CRUE).
Another point to analyze is who contracts, who is responsible for the selection of candidates in companies, adds Alcón. "Cultural perception is not changed overnight, society is much more aware, but that does not mean that the solution is in the short term." When Computer Science studies were renamed Computer Engineering, female registrations fell throughout Spain. "The word engineering causes fear", worries Francisco Mora, rector of the Polytechnic of Valencia. In fact, in their degree, Diseño y Tecnologías Creativas have many more students than in Computer Engineering.
Balluerka, from the Basque Country, believes that it is the companies that have to take measures to stop the disparity in working conditions by gender. "What determines the gap is that women have more part-time contracts, with the new law that requires men to take paternity leave, things will be regulated, but companies have a very important role" . In the Basque Country, the difference in work immersion between men and women is not significant. 83% of those who graduated in 2014-2015 on average are working. "Different scientific investigations have shown that if you send the same curriculum with the name of a woman, the chances of being hired are lower, and the gender bias is very clear," she criticizes.
(tagsToTranslate) 30% (t) university (t) find (t) work (t) four (t) year (t) graduate (t) Spain (t) be (t) country (t) ue (t) graduate (t) higher (t) have (t) employment (t) qualify



Source link