200 agents will reinforce Barajas controls from the 20th to alleviate collapses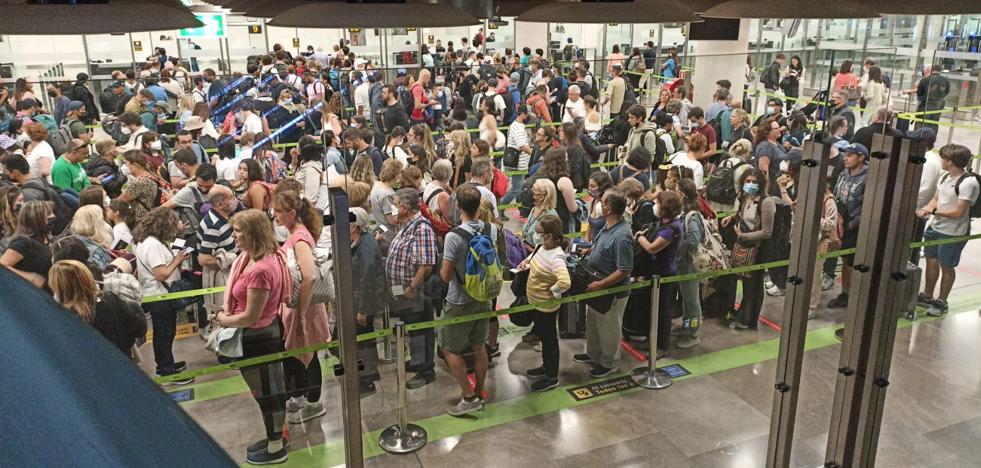 The Government continues to deny delays but the airlines denounce queues of 40 minutes to pass the security filters due to the greater traffic of tourists in the main Spanish airports
The main airports in Spain are registering queues of up to 40 minutes in the
passport controls for travelers who come and go to countries outside the European Union, as is the case in the United Kingdom since the 'brexit' came into force. This is how the airlines denounce it, assuring that they have been suffering from these problems since March, when tourism began to accelerate after the pandemic, but now the situation is one of collapse.
The Ministry of the Interior denies the majority and assures that the Barajas airport - where, according to the airlines, there are more incidents - presents normal activity at its border posts. Even so, the Government delegate in Madrid, Mercedes González, announced on Tuesday that nearly 200 agents of the National Police will arrive next June 20 to work in the security control of the Madrid airport. And on the Interior line, he indicated that he was "very much" surprised by Iberia's complaints -to which the Madrid City Council itself has joined-, which this Monday numbered more than 15,000 passengers who had lost their air connection alone in Barajas since March 1 due to these collapses.
"It is true that there are some controls to pass but we have no evidence that delays are taking place," the Government delegate told the media after an act in Valdemoro (Madrid). She also acknowledged that last summer there was "a problem and a negotiation that was saved by the Headquarters and since then there is no longer any problem."
From the Interior, they assure that in Madrid the controls will have a total of 601 troops this June, for a forecast of 18.7 million passengers during the month, while in 2019 with a transit of 19.2 million tourists the airport had 425 police officers. Of course, the Interior statement does not take into account that in 2019 British citizens, the first country sending tourists to Spain, continued to belong to the Schengen area within the EU.
"There are no queues or delays beyond specific situations due to the coincidence of several flights from outside the Schengen area," says Interior, which also highlights that the Police have not registered "not a single complaint" for missed flights, "which contrasts with certain affirmations".
Asked at the press conference after the Council of Ministers, the Government spokesperson, Isabel Rodríguez, explained that they are "specific issues" and stressed that 200 police officers will join the Barajas passport controls for the summer months, until the 600 agents.