1906 Stories: Diego Guerrero and Benjamín Prado claim the slowness to eat and read | Culture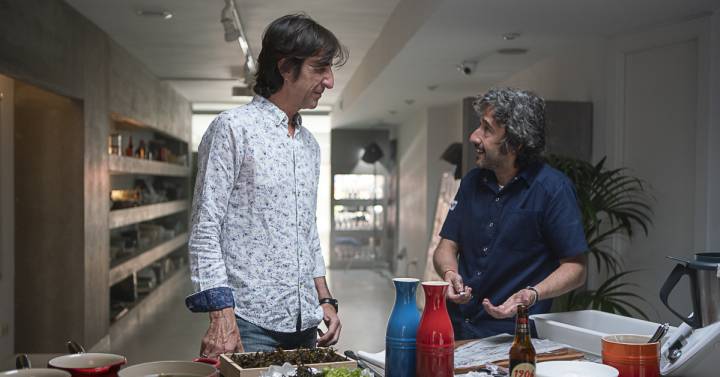 The most devastating phrase that can be said to chef Diego Guerrero is: "When do you change the menu to return?" And it is not uncommon for more than one diner in his DSTAgE restaurant in Madrid, with two Michelin stars, to do it as a compliment, although it generates some anxiety in him. "I have to pay the rent every month, the salaries every month, (…) and this man wants me to change things to return. Or change or not return. If he doesn't come back I don't pay; I have to be creative by force. And you say: this is complicated. The rope is tightened, "admits the 44-year-old Basque chef.
To have good ideas, Guerrero thinks that you have to take distance. "You have to leave the kitchen to return to it," he says. "If I interact with people from other disciplines, I begin to find parallels, things that inspire me. I want to cook again, to do something different, "he adds. Therefore, he especially values ​​the conversations he has had recently with the writer Benjamín Prado (Madrid, 1961), within the framework of the project Stories for a huge minority de Cervezas 1906, in which Prado will chat with professionals from various artistic disciplines.
"For me, cooking is a means of expression, it is a language. Therefore, I need to live so that things happen to me and to be able to tell them. And if not, I'm a gray and sad guy who only knows how to cook, "he continues. That is the recipe for the chef's success, although, he admits, he does not always enjoy his triumphs. Sometimes the pressure makes an appearance. "Success demands success. You say: 'When did I get into this garden? I wanted to be happy! ' But there you are. In the end it is to adapt, "explains this expert in creating pleasant experiences for the five senses, not just taste.
Claim the slowness
Pleasure is linked to slowness, calm. This is how Benjamin Prado believes it. "In this world, someone said a long time ago that the strongest one was not winning here but the fastest, and with that we entered into a kind of endless race in which it is not known if you are going around the same thing all the time," he says. . Therefore, he recommends that "one feels to eat quietly, to experience each thing, or to drink a good beer and experience a different flavor or to read a poem, because the poems are not an Olympic sport. When people understand it, they enjoy it. triple ", adds the author of the poem Eat a poem or write a plate inspired by the elaboration of the squid that only squid carries, one of the star recipe of DSTAgE.
The cook adds to that claim. "You can think of few ideas, occurrences you can have many. But good ideas don't come out every day. When a very strong rhythm is demanded, you in the end what you are doing is having occurrences ". Therefore, he believes that distance is necessary to reset and return renewed. Ready to innovate and, as requested by that client, renew the menu.
. (tagsToTranslate) diego guerrero (t) benjamín prado (t) vindicate (t) slow (t) eat (t) read (t) chef (t) poet (t) defend (t) need (t) learn (t) lower (t) rhythm (t) enjoy (t) experience (t) thing



Source link