18% of the ICU places in Gran Canaria are occupied by Covid patients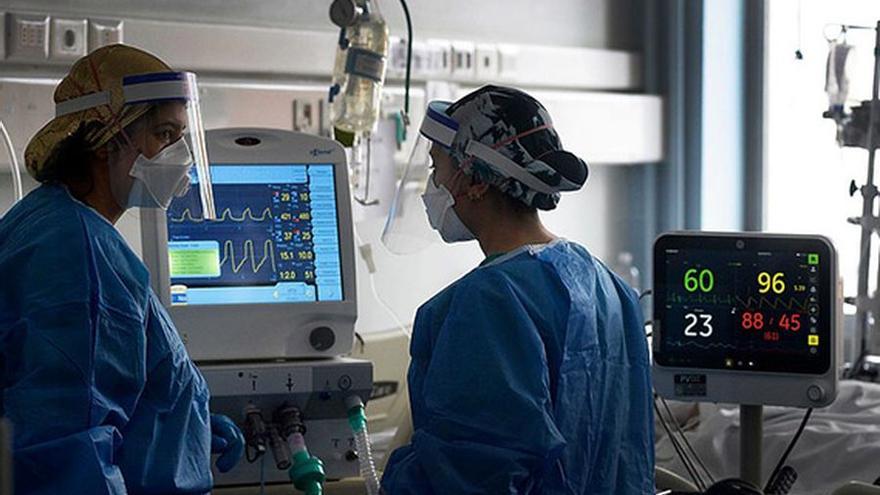 The healthcare pressure both in Canarian hospitals and in health centers is one of the main concerns of this sixth wave of coronavirus pandemic. The effects of the high number of infections of Covid-19 In the health system, it has against the ropes especially the primary care health personnel, but its consequences in hospitals are already evident. As an example, the occupancy of ICU beds in nursing homes Tenerife is already at very high risk with almost three out of ten critical places for patients with coronavirus.
In the Archipelago as a whole, around 20% of the beds in Intensive Care Units are occupied by patients with Covid-19, according to the latest report from the Ministry of Health of the Canary Islands Government, but the situation is more serious in Tenerife, an island that carries accumulating hundreds of daily diagnoses since mid-December.
In total figures, and in the absence of today's data update, there is a total of 332 admitted with coronavirus in Tenerife, 33 of them in ICU. In the Canary Islands, there are 485 hospitalized and 68 in critical care units.
Regarding the occupation of the plant, the data are not at all promising in the case of the Island: 16.2% beds in island hospitals are destined to care for patients from this sixth wave, an index that is also classified according to epidemiology as very high risk.
Only Gran canaria it is approaching such a negative balance, although it remains at high risk. A) Yes, 18% of the ICU places on the eastern capital island It is occupied by coronavirus patients, a rate that is lowered to 10% in the case of hospital beds on the floor.
In any case, the data show what epidemiologists had been predicting about the milder symptoms of the dominant variant in this sixth wave: Omicron Despite its high contagiousness, it does not generate the same complications as the previous variants of the Covid-19, a situation that is also accompanied by the generalization of the vaccine as agreed by health officials.
In this sense, according to the latest report from the General Directorate of Public Health, the rate of income in the last seven days It is 2.57 cases per one hundred thousand inhabitants, a figure that drops to 0.37 in the case of hospitalizations in critical care units. In Tenerife, this index is slightly higher: 2.8 cases admitted in the last week per 100,000 inhabitants and 0.43 in the ICU.