13,000 people receive help every day through HiperDino's anti-waste project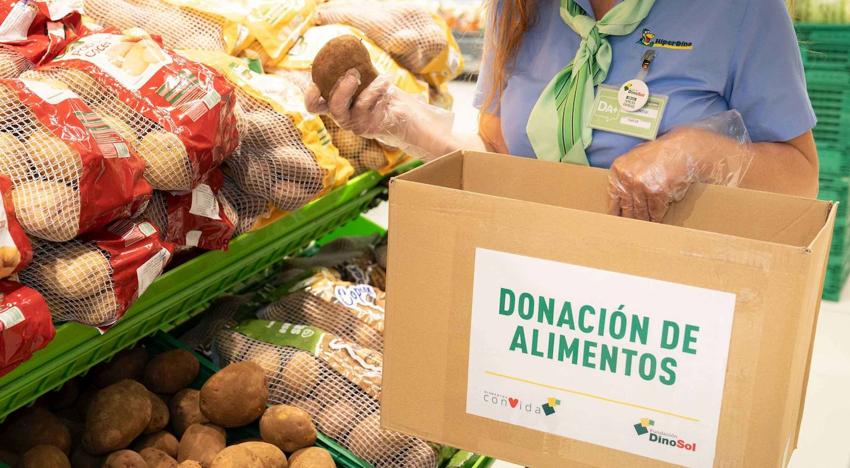 HiperDino, through the Food with Life program launched by the DinoSol Foundation, has been, for two years, the first chain to have a plan to combat food waste, helping 13,331 people every day and anticipating the recently approved Law .
In this sense, the director of Internal Audit of HiperDino,
Christina Arteagaassures that «the bill involves all the agents of the food chain in improving its efficiency, not only with the immediate aim of avoiding food waste, but also to encourage a bioeconomy that allows us to use the resources of a more sustainable and rational way.
This has allowed it to be the first chain to activate a plan to combat food waste, anticipating the recently approved Law

Christina Arteaga He adds that "this challenge is not achieved only with good prevention plans, but rather with the correct execution of planning and procedures by our staff. This, combined with continuous monitoring and support for stores, has made the Alimentos conVida program responsive not only to regulatory changes, but also to the chain's sustainability goals."
It was in June 2020 when the company, together with its Foundation, launched this project which, in addition to reducing waste in its stores, has a charitable purpose, since all products that are not marketable but suitable for consumption are donated to 31 social entities of the Archipelago.
In total, 896 tons of food have been distributed, including fresh products such as fruit, vegetables, meat, fish and bread.
80 HiperDino and SuperDino stores from Fuerteventura, Gran Canaria, Lanzarote, La Palma and Tenerife participate in it.
One of the fundamental aspects of Alimentos conVida has to do with the fact that, thanks to the efforts of each and every one of the store workers, in collaboration with HiperDino's Food Quality and Safety Area, a protocol was developed with a system to guarantee product quality and safety that allows all these foods to be reused and donated.
Social entities, grateful

In order to continue making improvements to this long-term project, the heads of the 31 beneficiary social entities responded to a short questionnaire to find out their degree of satisfaction with the project and the aspects to be improved.
This survey produced positive data and many of them took advantage of the occasion to express their gratitude for the launch and execution of the project.
The social entities that participate in this program are, by islands, Misión Cristina Moderna, which has three centers in Fuerteventura, the Majorero Shelter Assistance Association and the Majorera Humanitarian Association MAHUCU.
In Gran Canaria, Santo Domingo, Welfare and Development Work, Messengers of Peace, Nuestra Señora del Carmen, Casa Hogar Sor Lorenza, Karuna Maspalomas, Juvenile Rescue Association, Renacimiento Benefica Association of Telde, Cáritas Arucas Parish, Cáritas Diocesana and Association Paddling Las Palmas.
On the island of Lanzarote, the Calor y Café Association, the Canarian Flora Acoge Foundation, the Boluntis and Afocada Association participate; while, in Tenerife, they are the Padre Laraña Association, Messengers of Peace in Azaña and Adeje, Fundación Canaria Candelaria Solidaria, Afedes, Red Cross (La Laguna, Güímar and Icod de Los Vinos) and Virgen de La Esperanza.
Finally, in La Palma two Caritas centers participate.
On a daily basis, an auditor and five delivery men make sure that the donated food reaches each entity.
The Government approves a pioneering law

On June 7, the Council of Ministers approved the draft Law for the Prevention of Food Losses and Waste, with the aim of reducing the waste of uneaten food and favoring better use of it.
In 2020 alone, Spanish households threw away 1,364 million kilos/liters of food, an average of 31 kilos/liters per person.
With this Law, companies must have a prevention plan so that, based on a self-diagnosis, they adopt measures to minimize losses according to a hierarchy of use in which human consumption will have priority. Fact in which HiperDino has already been working for two years.
About HyperDino

HiperDino is the leading chain in the food sector in the Archipelago and the only 100% Canarian regional chain. Currently, it has 231 stores and works with more than 13,000 references, of which 40% correspond to local suppliers.
In addition, it is the leading company in the creation of jobs with more than 8,000 workers.
Present in five of the eight Canary Islands, it reaches seven of them through the hiperdino.es online store. This channel, created in 2015, has all the products from its physical stores and, among the advantages it brings, the customer receives the purchase the day after it has been made.
Likewise, it has two exclusive preparation centers for online purchases and 34 DinoShop franchise stores.
Through the DinoSol Foundation, it collaborates in solidarity with various actions supporting the social and cultural development of the Canary Islands, and pays special attention to the people who are part of HiperDino.
About the DinoSol Foundation

DinoSol Foundation was born in March 2017 with the aim of promoting individual, collective and family well-being, and improving the quality of life and professional training of all workers and collaborators who are part of HiperDino.
Likewise, it supports the social and cultural development of Canarian society and actively participates in solidarity activities.
Since its inception, it has carried out 264 collaborations with associations, foundations and non-profit entities in the Canary Islands, and has helped 756 people who work in the HiperDino chain.
It has launched and developed eight social programs; 29 own projects such as the Canary Islands Family Aid Program and Food with Life; three solidarity products such as Solidarity Socks and 13 corporate campaigns, in addition to five training courses on values, with a workshop on gender-based violence and another on the importance of communicating in equality, for employees.
Committed to fostering education and promoting talent, it has awarded ten grants for excellence to children of HiperDino workers.
Its Volunteering is made up of more than 350 people, who have decisively participated in 69 solidarity activities and 17 volunteer activities.