10,389 people choose one of the 990 teaching positions offered in the Canary Islands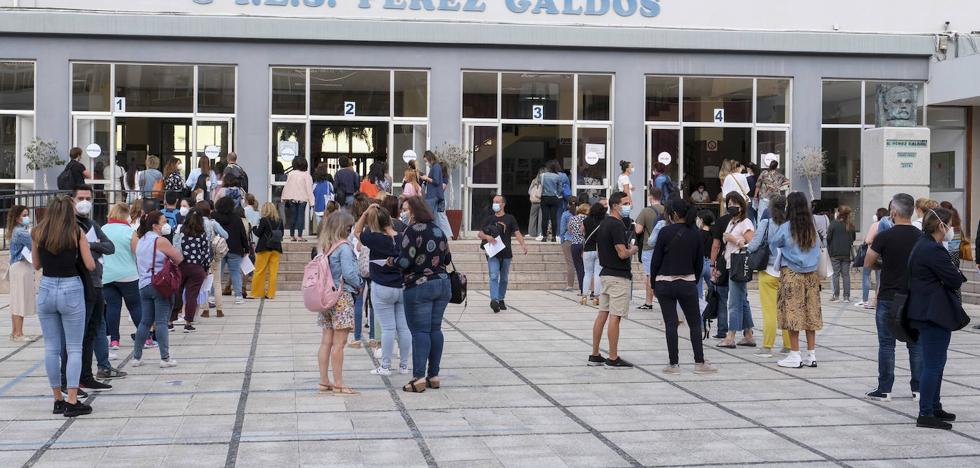 Education
This Saturday the oppositions of eight specialties start. The Ministry of Education has admitted 13,415 registrations
This Saturday the oppositions begin to obtain a teacher position in the Canarian public education. 10,389 people apply for a total of 990 places in eight specialties: Primary education. Childish. English, French, Physical Education, Music, Special Education, Therapeutic Pedagogy. Hearing and Language.
The Ministry of Education has registered 13,415 registrations, that is, almost 3,000 teachers opt for two different specialties, the maximum allowed.
In
Primary and Early Childhood Education account for 60.3% of the admissions admitted, with 4,520 applications the first and 3,580 the second. The total number of places offered in Primary is 295 and in Infant 244.
200,000 applicants in 15 communities

More than 200,000 people today aspire to the 17,756 places offered for all teaching bodies, mostly teachers, in 15 autonomies, as well as in the cities of Ceuta and Melilla, which is equivalent to one place for every 11 opponents. These are some of the data offered by the president of the national sector of Education of CSIF, Mario Gutiérrez, in a press conference collected by Efe, on the occasion of the celebration of these oppositions, which will take place today, except in the Valencian Community, where they have already been held, and in Catalonia, where they will be held soon. These are the first oppositions of these characteristics that have been carried out since 2019 after the postponements derived from the coronavirus pandemic.
For its part,
Physical Education is the specialty, as this newspaper already announced, with the highest competition with an average of 30.5 applicant for each position offered. In this specialty you go to opposition 48 places. and after it, the Primary specialty will be the most competitive, with 15.3 applicants per place.
108 courts participate in the qualification of the tests, of which 50 are in Tenerife and 45 in Gran Canaria. While in the non-capital islands there will be another 13 courts: seven in Lanzarote, four in Fuerteventura and two in La Palma. It is estimated that the number of opponents examined by the court ranges from a minimum of 70 to slightly more than 120.
According to the forecasts of the Ministry of Education,
20% of the people registered do not finally show up for the testa, so it is possible that a little more than 8,300 opponents are actually tested.