10 tips to be safe at sea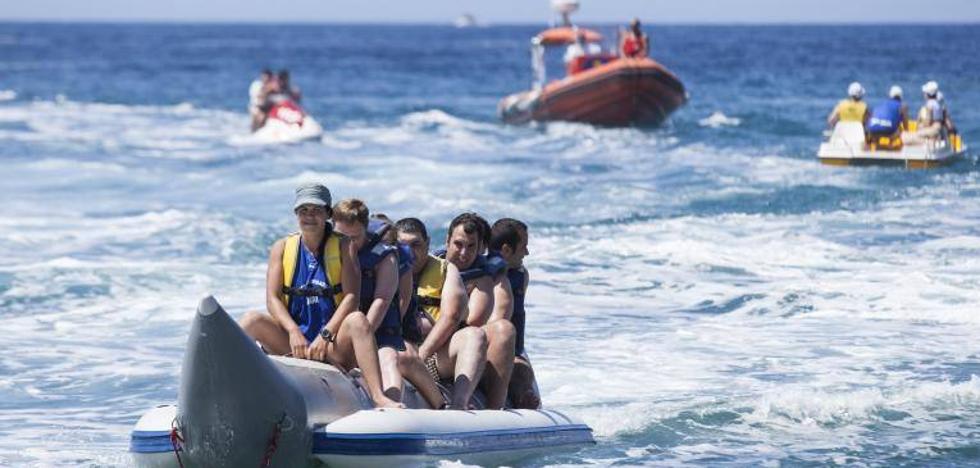 1
The flags. To begin with, always keep in mind the flags. Each color indicates some measure, so remember: if it is red, do not go into the water, since bathing is prohibited. The yellow indicates that you should be careful and the green indicates that the sea is in good condition so that you can take a dip. In this case, even if the signaling is positive, you must always be careful, since the conditions can change from one moment to another.
two
Mats. We all like floats to stay in the water for a while. Although it is super comfortable, do not lower your attention or fall asleep, as you could be dragged without realizing it.
3
Beacons.On many occasions you will have come across buoys and other types of beacons surrounding an area. These work like the cones that are used to signal on the road, so respect the spaces that are delimited for other activities, since you could have an accident caused by boards, jet skis, boats...
4
Legislation. We know that water sports are popular throughout the year thanks to the weather conditions on our islands, but in summer the number of people who are interested in these activities increases. Whichever one is chosen, look for the rules that govern these sports and comply with the stipulated safety regulations.
5
Sports, better in company. The best way to practice an activity in the water is to do it with more people. In addition to having a good time with them, if something happens you will have someone who can help you. If you choose to be alone, inform a family member or close friend about the place where you are going to be and the time you are going to return.
6
The tides. The sea level changes, so you will have to know what state it will be in when you plan to carry out an activity such as surfing, bodyboarding, sport fishing... Check the tides before going and do not go to places where Know what the currents are like, as you could find yourself isolated and far from the shore. You should never swim against the current, you will have to wait for it to lose intensity and let yourself be carried away by the current. It is also recommended that you stay away from where the waves break.
7
The clothes. The clothes you wear are also important in the water. Try to opt for bright colors that are easily visible, as this will favor your search in case you have to be located. Also, choose comfortable shoes that will help you walk through cliffs and streets.
8
Sun. Even if you are not on the shore basking in the sun, it is important that you do not lose sight of it in the water as well. Protect yourself against it using protective cream and do not spend many hours exposed. Try that the time you are under the rays is in the period where it is not high.
9
Diving. It is probably one of the activities that most people choose, such as baptisms in the sea, if you are a beginner, or exploring our incredible seabed. In this case, in addition to the regulatory equipment, try to take a knife with you and do not forget to mark your presence with a buoy.
10
The 1-1-2. When things get complicated, be aware of your limitations. The first thing you have to do is stay calm, analyze the situation and, if you need help, ask for it. If someone close to you is in trouble, call 1-1-2 as soon as possible.