10% of those infected in the last week were vaccinated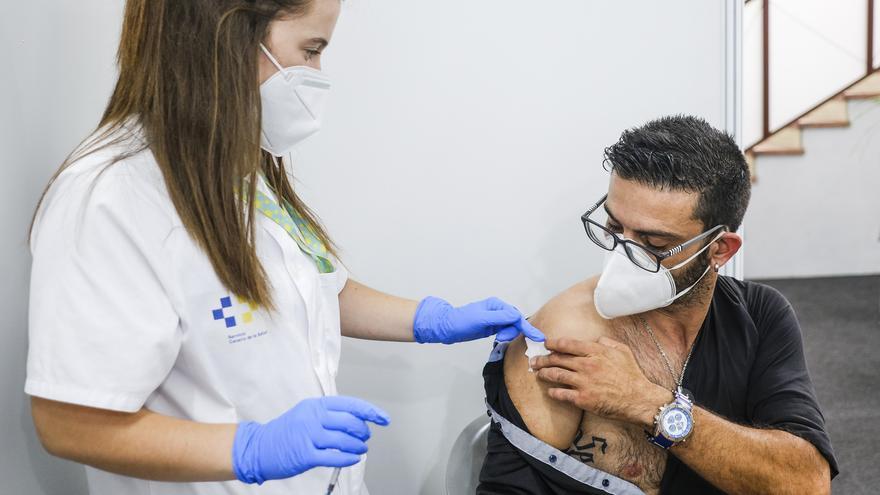 One in ten infected in the last week in the Canary Islands has the complete vaccination schedule. Of the 536 people who contracted the virus after receiving the serum, 21 required hospital admission, but none have required ICU care. 17.2% (1,413 people) of the 5,357 cases reported in recent days have a single dose of the vaccine against covid-19 and 72% (3,821) had not yet been vaccinated. Of these infected, only 123 (2.3%) had to be hospitalized, 76 were not vaccinated and 21 had the complete regimen.
90% of the cases reported in the last week have been diagnosed in the non-immunized population, since at this stage of the pandemic the transmission of the virus is occurring mainly in young unvaccinated population.
The fifth wave leads the Canary Islands to break its record of daily infections for the fourth time in just eight days. In the last 24 hours, the Islands reported 690 positives. In the Archipelago there are 6,975 active cases, of which 267 remain hospitalized and 43 are being treated in intensive care units (ICU). In the last hours it was necessary to mourn the death with the covid-19 of three men: two in Tenerife, 70 and 78 years old, the first of them linked to a family outbreak, and one in Gran Canaria, 84 years old. According to the Ministry of Health, the three suffered from previous pathologies and remained in hospital.
The seven-day cumulative incidence (AI) in the Canary Islands stands at 167.7 cases per 100,000 inhabitants, almost eight points above the previous day, and the AI ​​at 14 days reaches 281.03 cases, about fifteen points more than on Tuesday.
9% of the tests that have been carried out in the Canary Islands during the last week have detected a contagion, with which the positivity rate has increased by 4% so far this month. Until yesterday, the Canary Islands Health Service (SCS) has carried out 1,703,490 diagnostic tests in the Islands, of which 8,484 correspond to Tuesday.
By islands, Tenerife yesterday added 391 positives with a total of 31,901 accumulated cases and 4,472 active; Gran Canaria has 25,328 accumulated, 231 more than the previous day, and 1,870 active. For its part, Lanzarote detected 16 infections, with 5,865 accumulated and 103 active; Fuerteventura has 2,986 accumulated positives, with 35 more than on Tuesday, and 342 active. La Palma diagnosed 12 new cases, so it has 729 accumulated and its assets are 149; El Hierro, without new infections, continues with 400 accumulated and 15 active, while La Gomera registered five new positives, so it has 270 accumulated and 24 active.