10 big losers of the Eurovision Song Contest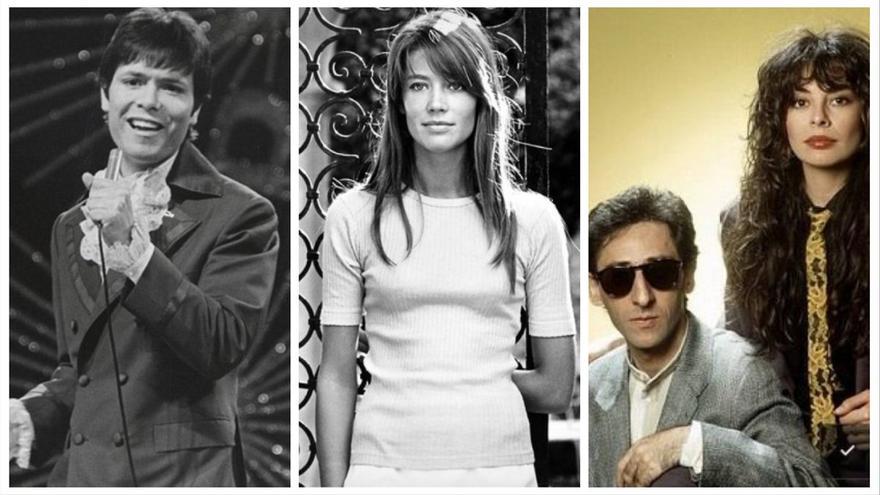 Domenico Modugno. Italy, 1958, 'Nel blu dipinto di blu (Volare)'.
Is a festival serious in which the universal 'Volare' does not win, but is third? It does not matter: the song, triumphant in San Remo, conquered Europe and was number one in the United States. And in the future voices like Dean Martin, Ella Fitzgerald and David Bowie would make it his own.
Françoise Hardy. Monaco, 1963, 'L'amour s'en va'
Although she arrived at Eurovision on the commercial wave of 'Tous les garçons et les filles' and turned into a girlfriend of France, the melancholic Françoise, then 19 years old, had to settle for fifth place for this piece of her authorship (and worse it went to Nana Mouskouri, who was eighth).
Cliff Richard. United Kingdom, 1968, 'Congratulations', and 1973, 'Power to all our friends'
When the favorite plays, the feeling of failure is redoubled, and the voice of 'The young ones' happened to him twice in which he was second (after Massiel) and third (after the Luxembourgian Anne-Marie David and, again, Spain with Mocedades). Eurovision curse.
Nicola di Bari. Italy, 1972, 'I giorni dell'arcobaleno'
In the classical era of the festival, the RAI sent first swords without great results (the exception: Gigliolla Cinquetti). But, like Iva Zanicchi, Gianni Morandi or Massimo Ranieri, Di Bari did not triumph despite the beauty of this song about adolescent loves.
Silver Convention. Germany, 1977, 'Telegram'
Euro-disco divas with 'hits' like 'Fly, Robin, fly', Penny, Ramona and Rhonda had the effective backing of author-producers Levay & Kunze (Donna Summer, Boney M, Amanda Lear), but their sympathetic (and today obsolete) 'telegram' did not exceed eighth place.
Samira Saïd. Morocco, 1980, 'Bitakat hab'
Moroccan television, a member of the EBU since 1950 (so are those of Lebanon or Algeria), participated only once in the festival. Samira Saïd, who came second to last, was a star in her country and continues to be so. Upon her return, she was greeted by King Hassan II.
Amaya remedies. Spain, 1983, 'Who manages my boat'
The great victim among our Eurovisives. 'Quien manaja mi barca', with its audacious mix of cante jondo, synthesizers and drum machines, was left with 'zero points', like Turkey. Remedios went back years later, rising as a renowned flamenco voice.
Franco Battiato & Alice. Italy, 1984, 'I treni di Tozeur'
The lamented Battiato, with his protégé Alice, stratosphericly raised the bar for that year with this song of majestic melodic dynamics, minimalist synth-pop strokes and a Germanic choral bridge borrowed from Mozart. Magnetic stage presence (and offensive fifth place).
tATu Russia, 2003, 'Ne ver', ne boysa '
Lena and Yulia armed it with their lesbian winks and the balloon swelled so much that their third place was little. Let's rescue his refreshing performance, in jeans and white T-shirts, on the back of a dark and urgent Euro-pop, with rock and electronic tracks.
https://www.youtube.com/watch?v=1TouzY3_yq0
Bonnie Tyler. UK, 2013, 'Believe in me'
Like a year before Engelbert Humperdinck (who came second to last), the harsh voice of 'It's a heartache' proved that Eurovision can be a death trap for veterans. 19th place for this 'power ballad' signed by Desmond Child (co-author of 'I was made for lovin' you ', by Kiss, and' Livin 'on a prayer', by Bon Jovi).